Fourth Year in a Row: Canterbury Consulting Named Best Places to Work in Orange County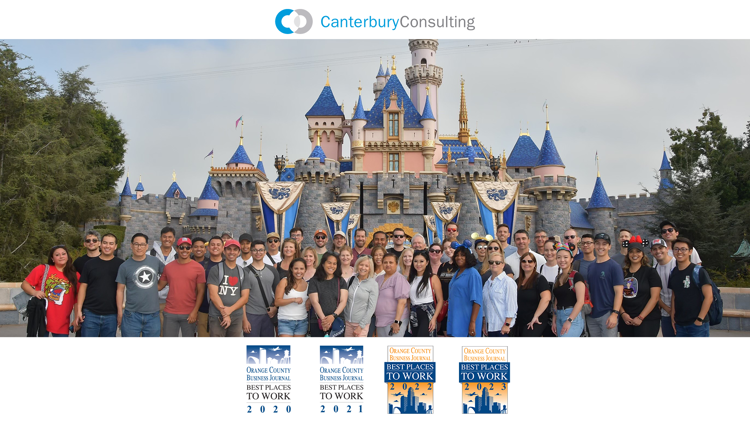 Fourth Year in a Row: Canterbury Consulting Named Best Places to Work in Orange County
Canterbury Consulting is named one of the 2023 Best Places to Work in Orange County, marking the fourth consecutive year to receive the award. 
This county-wide survey and awards program identifies, recognizes, and honors the best places of employment in Orange County, California, benefiting the county's economy, workforce, and businesses. The Orange County Business Journal, in partnership with Workforce Research Group, created the awards program in 2009.
"This achievement is a testament to our unwavering dedication to fostering a positive and supportive work environment, where every employee feels valued and fulfilled in both their personal and professional lives." Debashis Chowdhury, President, Canterbury Consulting.
To be considered for participation, employers had to fulfill the following eligibility requirements:
Have at least 15 full- or part-time permanent employees working in Orange County;
Have a physical operation in Orange County;
Be a publicly or privately held organization;
Be a for-profit, not-for-profit, or a government organization;
Have been in business for at least one year, at the program registration deadline.
Organizations across the county entered the two-part process to determine the Best Places to Work in Orange County. The first part evaluated each employer's workplace policies, practices, and demographics. This process was worth approximately 20% of the total evaluation. The second part consisted of an employee survey to measure the employee experience. This process was worth approximately 80% of the total evaluation. The combined scores determined the top organizations and the final ranking. Workforce Research Group managed the overall registration and survey process in Orange County, analyzed the data, and used their expertise to determine the final ranking.  
The July 3rd issue special section of the Orange County Business Journal features the ranking of the winning organizations.   
For more information on the survey process for the Best Places to Work in Orange County program, visit www.BestPlacestoWorkOrangeCounty.com.